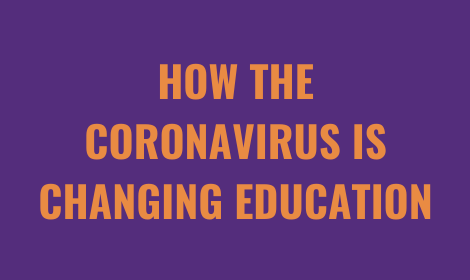 15 May

How The Coronavirus Is Changing Education
How The Coronavirus Is Changing Education
The current Coronavirus pandemic has had such a profound effect on every aspect of life for every single person in the UK, not least those in education. 5 months ago none of us knew what COVID-19 was and most of us were unfamiliar with the term Coronavirus. The current pandemic has gripped the nation and with more than 4.5 million British schoolchildren having been told to stay home, the effect on those in education is evident. But what about the wider impacts of the Coronavirus on education? Throughout the below article we will be looking into how Coronavirus has already impacted education in the UK, what effect it has had on the student's, and how our approach to education could be adapted moving forward… 
What Impact Has The Coronavirus Had On Education In The UK?
On the 18th of March 2020, British Prime Minister Boris Johnson announced that all schools were to close indefinitely with near-immediate effect, and all of this academic year's exams will not go ahead. Although I am sure many school children were initially delighted with this news update, the reality of not being able to leave the house, see friends, and of course being in the midst of a tragic health pandemic, quickly set in. Now, almost 2 months on, what effect has the Coronavirus had on education?  
Well, what was once a pretty unique style of learning, home education and home-schooling, has now become the norm for all school students up and down the UK. Parents are having to adjust to the "new normal" of becoming their child's teacher and helping them with their studies at home, and of course this is balanced with your normal parental responsibilities and duties. 
Our approach to education has changed dramatically in the past couple of months, and the general rule of thumb is to just do the best you can. For many of us, the subjects and topics covered in our child's syllabus is a distant memory for us and in order to help your child to understand their studies your first have to wrap your own head around it.  
Of course, teachers are still setting worksheets and activities and are on hand for support. However, having to divide their attention between a full class of students remotely, it is expected and understandable that your child might not get the attention they did at school.  
How Has The Coronavirus Impacted GCSE and A-level Exams?
As we have already briefly touched upon, the Coronavirus pandemic has meant that all of this academic year's exams will not go ahead, including SATs, GCSEs and A-Levels. This has caused stress, panic and anxiety for many students in key year-groups up and down the country. As part of it's strategy of closing down schools, the government announced plans for how GCSE and A-level grades will be handled this year.  
GCSE and A-level students have been reassured that they will still receive a fair grade and will not be put at a disadvantage when compared to students from previous years.  
The Government has announced plans on how it intends to award grades to students based on teacher's judgements of the grade's they think their students would have received, mock exam results and other additional schoolwork. It also sounds like students will have the option to sit an exam early in the next academic year if they are dissatisfied with their results.  
The government are working to ensure a results system that is as fair as possible and will ensure the necessary progression for students moving on to their next journey. Presumably some sort of re-marking system will also have to be offered as in previous years.  
How Can You Ensure Education Continuity During The Coronavirus Pandemic?
How much effort you put into to ensuring that your children keeps up their studies during the Coronavirus pandemic is very much down to you as the parent. Many parents will be thinking this is an excellent opportunity for their child to catch up or get ahead of their class, while many parents will also think that their children currently have enough stress as it is and don't want to burden them any further.  
There's no denying it, home-schooling your child is hard, no matter how relaxed of an approach you adopt. But, the role parents will play over the coming weeks and months will have a significant impact on children's education. 
While many schools are sending out resources and work for their students, parents may find they need an extra helping hand with their children's work. That's where Tutorwiz comes in. Tutorwiz is an ideal resource for the Coronavirus pandemic! Covering ages 6 to 16, Tutorwiz helps to maintain some normality in your child's studies by combining online learning with real-life tutor support. Tutorwiz will help to engrain routine in your children, by producing weekly lesson plans that will guide and mentor your children and keep them engaged. 
Regardless of how you are approaching your child's education during the pandemic, maintaining a good, well-structured routine for your child will help to keep them settled and calm. Make sure they got out of their pyjamas, take regular breaks, and get outdoors for their hour of exercise each day.  
If you are concerned about your child's education during the Coronavirus pandemic, then why not discover more about Tutorwiz. Get a free demo of our programme today…
How Can You Home School Your Children Properly?
Home-schooling is no easy task and this has become more and more apparent to parents. As we have touched upon, maintaining normality and a routine for your child is a good way to ensure the best education for your child from home. Making sure that you child takes regular breaks and isn't overwhelmed with work will ensure that your child actually absorbs the information that they are learning.  
Although schools are setting work for children, this is general work that is set for an entire class, and isn't necessarily targeted to your child's individual strengths and weaknesses. This may be sufficient for some, but for many it just means going back over work which your child already understands or working through tasks which your child just doesn't grasp.  
To ensure a more personalised education for your child from home, then additional learning resources could be worth exploring. Tutorwiz is the online learning platform which combines online learning activities tailored to your child's specific strengths and weaknesses, combined with real-life tutor support for when they get stuck. 
Tutorwiz ensures that your child maintains their education at home in a thoughtful and effective way. With various games, activities and worksheets targeted to all ages and abilities, Tutorwiz ensures a targeted education during the virus pandemic. 
When Will Education Return To Normal?
One question which everybody is desperate to know the answer too is when we might be able to expect things to start returning to normal. This is even more important of a consideration when it comes to our child's education, as many other aspects of easing the current UK-wide lockdown would depend on children returning to schools.  
So, when might we expect education to start returning to normal? Well the answer is that we don't have a fully accurate idea. The government has announced that they would like to open some school classes as of June the 1st, but many parents and teachers think this is too soon. Some European countries have already started re-opening some schools and day-care facilities, even some of the countries which were initially hit hardest by the pandemic. However, as we are so often reminded, we should not draw comparisons with other countries and models.  
Many are hopeful that schools can start to reopen before the summer holidays, whereas some are doubtful that schools and colleges would even be able to re-open from September. With so much uncertainty, predictions cannot be made for when schools will reopen. But it is worth remembering that it for the greater benefit and that we are safer at home!  
Will Coronavirus Change Our Approach To Education Forever?
The Coronavirus pandemic has already changed so much in such a short space of time, that it is not hard to believe that the Coronavirus will change our approach to education forever. In fact, this seems more likely than not now. The prospects of school's reopening comes with the caveat of social-distancing measures, which has raised discussions about class sizes, staggered start times and more.  
Similar to our approach of easing the UK-wide lockdown, many precautions have to be taken to ensure a second-wave of infections does not happen. This, undoubtedly, will have a continued effect on our every day lives and how we approach various different things, not least education. 
If one thing is for sure, is that parents will have a new level of respect for their child's teachers and education providers, knowing the hard work they put in to help your children develop. Equally, I think a greater emphasis will be placed on the value of socialising, with school-children having not socialised with anyone outside of their home for coming on 2 months now. 
If you are particularly concerned about your child's education during the Coronavirus pandemic, then discover more about Tutorwiz today. Tutorwiz is the online learning platform which combines interactive online learning with live tutor support, to ensure that your child gets help exactly where they need it. Much of the feedback we receive from parents is that Tutorwiz is more engaging and fun than other learning, helping children to enjoy their studies more. Discover more about our online tutoring platform today by getting in touch with us on: 0800 181 4221,  by emailing us at info@tutorwiz.uk or by using our contact from…