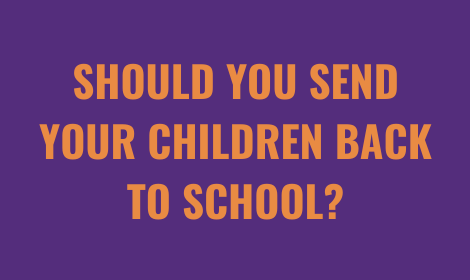 18 Jun

Should You Send Your Children Back To School?
Should You Send Your Children Back To School?
With the majority of children now having been out of school for more than 2 months, kids have become well-adjusted to life at home. Not only the kids, but parents have also settled into the new normal of staying safe at home. With schools up and down the UK opening their classrooms to certain year groups since the beginning of June, more and more people are wondering just how safe it is to send their kids back to school and whether it is the right choice for them.  
Throughout this article we are going to look into whether or not it is safe to send your children back to school since they first shut their doors due to the Coronavirus back in March, and what the concerns are around a return to school.  
So, 

Is It Safe 

To

 Send Your Children Back To School?
The question of whether it's safe to send your children back to school or not is a difficult one. Of course, there is no guarantee that your child will not be exposed to Covid-19 at school, but that's also going to be the case just about everywhere you visit, from the park to the supermarket. Schools would not be re-opening at all unless the government considered it somewhat safe to do so, and their decision to re-open some classrooms would have been led by science and data.  
Many parents will be rightfully concerned about sending their children back to school given the seriousness of the Coronavirus and having seen loved ones be so affected in recent months. This, combined with recent questions around adequate contact-tracing, the lack of personal protective equipment and of course also being months away from a vaccination, has reinforced all of the concerns parents had about sending their children back to school.   
As part of Boris Johnson's roadmap to end the Coronavirus lockdown, more and more students were expected to return to school before the end of the academic year, although this idea has now been abandoned. The government are reassuring parents that a staggered approach to a return to normality is the safest possible way to get your children back to education in school. The Government and World Health Organization have also offered up plenty of guidance for schools on all aspects of virus-safety, from regular hand washing to socially distanced classrooms and phased break and lunch times.  
Do You Have 

To

 Send Your Child Back To School? 
With so many concerns around a return to school, it is to be expected that some parents do not want to send their children back yet. This seems to be common among parents currently and the reality is that it is entirely your choice whether to send your children back to school or not, at least for the moment.  
For years, parents have been punished for taking their kids out of the classroom, for example to go on holiday. So, the thought that you can now make your own mind up whether to send your children back to school or not is a freedom that parents haven't really had before. Although some may not agree, the government are trying to make decisions which are in the best interest of your children, for example by bringing the most vital year groups back to school in the safest way possible. Ultimately, both you and the government want your children back in the classroom, but only if it's safe to do so.  
In terms of the official advice on whether or not you have to send your children back to school, then the Department Of Education have essentially said that you don't have to send your kids back to school but you are encouraged to, saying "Whilst there will be no penalty for families who do not send their children to school, families will be strongly encouraged to take up these places – unless the child or a family member is shielding or the child is particularly vulnerable due to an underlying condition". 
If you are a parent who does not think it's the right time to be sending your children back to school, then why not discover Tutorwiz today. The family tutoring programme which ensures education continuity for your child. Get a free demo today…
What Are 

The

 Main Concerns 

Around Children Returning 

To School?
Parent's biggest concerns around a return to school is of course the safety of their children and family. We have all heard about how younger people are less likely to be seriously affected by Covid-19, but what about what they could bring back into the home? Which is even more of a concern for those who may have older or more vulnerable people in their household.  
There are so many concerns around a return to normality, and this only gets amplified by what we hear in the news. For example, many councils made the decision not to reopen schools on the 1st of June and rather wait until proper-risk assessments and social distancing measures had been implemented. While this a wise move on the council's part, news of some schools "making the decision not to re-open" raises concerns and questions for parents of children whose schools have already re-opened.  
Other concerns that parents have been facing include in-adequate contact tracing, still being months off of a reliable vaccination or antibody, and the risk of spreading the virus to more vulnerable family members. The potential pressure on the NHS is also a key-consideration for some.  
When Will Schools Be Safe 

To

 Reopen?
The question of when schools will be safe to reopen has no easy answer. Many will argue that schools are already safe to reopen and that is what the government are working towards with their phased approach to full school reopening's. However, some teachers, teaching unions and other industry bodies have expressed severe concerns around opening schools already.  
When Boris Johnson first announced that some classes would be returning to school, this was because key performance indicators were being met, such as the "R number" being below 1 and a reduced-strain on the NHS. The reopening of schools was conditional based on us continuing to meet the above objectives, and hopefully this can act as some sort of reassurance to parents.  
Despite declining numbers of Covid-19 deaths and transmissions, there are other serious factors that need to be considered in order to prevent a second-wave of infections. For example, many are complaining that the government's approach to contact tracing is insufficient or that their approach to personal protective equipment in schools is not robust enough.  
If your child's school is not confident that they can re-open safely then rest-assured that the school will not re-open. Many schools have made this decision as a temporary measure to make sure that risk assessments can be completed, and social distancing measures implemented. However, some places of education have gone one step further by announcing their intention not to reopen even come the new academic year in September. Cambridge University for example have already made the decision to scrap in-person lectures for 2020-21, instead choosing to adopt remote learning. 
In short, the reality is that if your child has been invited back to school then it is most likely more than safe enough for them to return to the classroom, but there may be some considerations that you have to make, for example if you are living with older relatives or those more vulnerable.  
If you are one of the parents making the decision not to return your children to school yet, as is entirely your choice, then why not discover Tutorwiz, the family tutoring programme which ensures education continuity for your child. Tutorwiz is the real-time learning platform with private tutor support that helps your child to make the most out of their home-schooling. It also gives all of the new parent-teachers a welcome break! Discover more by getting in touch today. You can get in touch by using our contact form, by emailing us at: info@tutorwiz.uk or by calling us on 0800 181 4221, and a member of our helpful team will be happy to help! Discover more about Tutorwiz today and help your children to maintain their education while out of school!