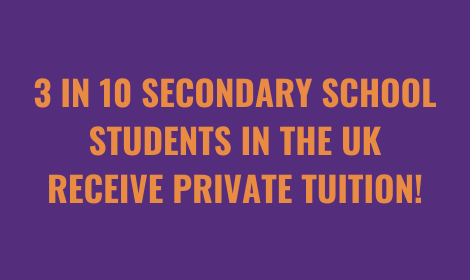 27 Jul

3 In 10 Secondary School Students Receive Private Tuition!
3 In 10 Secondary School Students Receive Private Tuition!
Recent research by Ipsos & the Sutton Trust suggests that nearly a third of secondary school students in England and Wales have received private tuition. The survey, completed by 2,394 secondary schoolchildren aged 11 to 16 found that 30% of pupils said they have had private tuition, up from 27% pre-pandemic.
The survey also found that there is a sharp contrast between the "best-off" and "worst-off" homes in England and Wales when it comes to private tuition. Children in the "best-off" homes were more likely to report having received private tuition vs those in the "worst-off" homes (35% compared with 21%). "Stark regional disparities" in the use of tuition was also apparent in the survey. Nearly half (46%) of pupils in London reported having had private tutoring compared with 16% in the North East.
Throughout this article we are going to take a closer look at the benefit of private tuition for secondary school students, how accessible private tuition is, why increasing numbers of students are looking for private tuition and where you can turn if you can't afford private tutoring.
So, Why Do So Many School Students Receive Private Tuition?
With almost a third of secondary school students receiving supplemental private tuition, we have to ask the question why so many school students feel the need for private tutoring?
There are numerous reasons a student might want to receive private tuition, whether that be to improve in a specific subject, gaining a competitive edge ahead of exams, or simply to make the most out of their education and get ahead in school.
Although private tuition can be a valuable resource for students who are struggling in school or who want to excel in their studies, it's important to note that private tuition isn't always necessary. But, with the number of secondary-school-students receiving private tuition increasing post-pandemic, it does make you wonder whether school's current provisions are sufficient?
Does Private Tutoring Really Help?
Private tutoring certainly can help. Whether your child is struggling with a specific subject/topic or needs some help with preparation ahead of upcoming exams, private tuition really is beneficial.
One of the key benefits of private tuition is the personalised attention a private tutor can provide a student. A private tutor will be dedicated to your child's individual needs, focusing on their unique strengths and weaknesses. This personalised attention means that a student can receive support exactly where it is needed.
Private tuition can also really help in a student's exam preparation. Tutors are often well-clued-up in the requirements, expectations and contents of exams (including GCSEs, SATs and the Eleven Plus) and know what is required to achieve your desired grades. Private tuition can help students develop effective study strategies, provide targeted practice for specific exam formats, and offer insights into exam techniques and time management.
Ultimately, private tutoring really can help a student in their studies.
Is It Unfair To Use Private Tutoring?
The question of whether it's fair/unfair to use private tutoring isn't straight forward. While private tutoring can offer advantages to those who can afford it, it is important to examine its potential implications to the broader educational landscape. On the one hand, if a parent has the desire and means to provide private tuition for their child, then why shouldn't they? But conversely, why should any one student have access to a "better" education vs their peers.
Private tuition only adds to the problem of educational inequalities. The disparities in educational opportunities for those from more affluent backgrounds vs those worse off is apparent. But, can a parent really be blamed for wanting the best for their children if it's within their means?
Private tutoring also raises concerns about the quality and effectiveness of the regular education system and schools. If private tutoring is becoming increasingly common, it may suggest shortcomings in the quality of classroom teaching or the National Curriculum's ability to meet diverse learning needs. In an ideal scenario, the education system should provide adequate support and resources to all students within the regular classroom setting.
In short, the question surrounding the fairness of using private tuition runs much deeper and raises concerns about educational inequalities and the shortcomings of the regular education system/schools.

Is Private Tutoring Expensive?
Although private tutoring can really help a student in their studies, it doesn't come cheap. The cost of private tuition is expensive, with hourly rates for private tutors anywhere from £20 – £40 per hour, possibly even more. Additionally, there may be some extra costs involved in your private tuition separate from the tutor's fees, for example travel expenses.
As with anything, the rates for private tuition can vary massively. You can certainly find cheaper private tutoring but bear in mind that you get what you pay for.
The cost of private tuition will really add up over time. Over the course of a school term, you can easily spend hundreds if not thousands on private tuition, and that's just for one subject or topic once a week. This cost accumulates over time, especially if students require long-term or ongoing tutoring support.
Ultimately, the question of whether private tutoring is expensive will be different for each family based on their financial capability and how much they value private tuition.
Tutorwiz is the affordable online tutoring programme that makes private tuition accessible for all! Lock in your child's FREE Tutorwiz Assessment now!
What If You Can't Afford Private Tutoring?
Private tutoring can be a really effective approach to helping your children to excel in their education. However, private tuition is traditionally expensive. 1-2-1, in-person, private tuition can easily set you back as much as £40 per student, per hour and group tuition/learning centers can be just as expensive. With private tuition typically being so expensive, it makes it far from accessible for most families.
If you are looking for an affordable private tutoring solution, then Tutorwiz could be the perfect option for you. Tutorwiz is the online tutoring platform that makes private tuition accessible for all. Even though the "best-off" homes are paying for expensive private tutoring, Tutorwiz's online tutoring programme provides all students with private tuition at a more affordable cost, ensuring that no child gets left behind! Tutorwiz offers a range of financial support packages to help parents who are finding the high cost of living a struggle; such as grants, Scholarships, Blue Light Card Discounts and more.
Tutorwiz is the online tutoring programme that combines online learning with real-life, one-to-one, private tutor support whenever it's needed. Tutorwiz is fun and engaging and uses a variety of methods to help students to excel in their education. Tutorwiz is a great option for students who want to get ahead in their studies without having to spend a fortune.
If you would like to find out some more information about Tutorwiz or how our online tutoring programme makes for an affordable private tuition option, then please get in touch today. You can get in touch with the Tutorwiz team by using our contact form, by emailing us at: info@tutorwiz.uk or by calling us on: 0800 181 4221. Alternatively, why not lock in a FREE Education Assessment for your child and discover how exactly Tutorwiz can benefit your child in their studies.
Looking for an affordable private tutoring solution to help your children make the most out of their studies? Lock in your child's FREE Tutorwiz Education Assessment today!