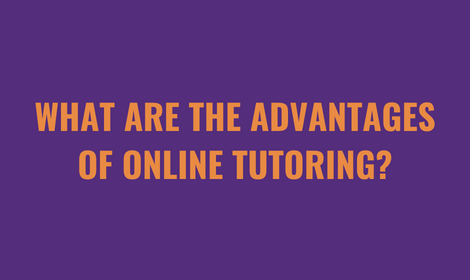 23 Mar

What Are The Advantages Of Online Tutoring?
What Are The Advantages Of Online Tutoring?
Online tutoring has grown in popularity in recent years, not least due to the Covid-19 pandemic which brought education online for children across the world. With the Coronavirus pandemic now seemingly well and truly out of the way, it appears that the popularity of online tutoring is here to stay.
Online tutoring comes with a whole host of advantages, whether that be the flexibility it offers, the fact that you can study anywhere you have an internet connection, or the engaging nature of online education.
Throughout this article we take a closer look at online tutoring, how it works, what the advantages are and where you can turn if you are looking for online tutoring for your family.
Firstly, What Is Online Tutoring?
Online tutoring is a type of educational service that is provided over the internet. It typically involves a student receiving one-on-one instruction from a tutor who is experienced in the subject the student is struggling with. It may also take the form of an online tutoring programme or online tutoring resources, such as activities, games and workbooks.
The benefit of online tutoring is that the tutor and student can communicate using a variety of online tools, such as video conferencing, instant messaging, and virtual whiteboards, there's no need for travel or to let a tutor into your home.
This type of tutoring can be useful for students who need extra help with their studies, but may not have access to a traditional tutor or are unable to meet with one in person, whether that be due to anxiety, finances or any other reason.
Online tutoring is an incredibly effective approach to education and is also much more cost-effective vs other more traditional types of tuition.
Tutorwiz is the online tutoring programme that makes learning easy! Request your Child's FREE Educational Assessment now…
How Does Online Tutoring Work?
Online tutoring can take many different forms, but typically, online tutoring works by providing students with access to a tutor through an online platform, such as a video conferencing software or a virtual learning environment. Students can communicate with their tutor in real-time, either through messaging or audio/video calls, and receive personalised instruction and guidance on specific subjects or topics.
During an online tutoring session, a tutor might assess a student's current knowledge and understanding of a subject, identify areas of weakness or misunderstanding, and provide tailored instruction and feedback to help the student improve their skills and understanding. This can include providing additional resources, such as practice problems or worksheets, as well as guidance on effective study strategies and techniques.
In some cases, online tutoring may also involve using interactive tools and resources, such as virtual whiteboards or online quizzes, games and activities to help students engage with the material and learn in a more interactive and engaging way.
Overall, online tutoring provides students with the opportunity to receive personalized instruction and support from a qualified tutor, without having to physically meet in person. This allows for greater flexibility and convenience, as well as the ability to access tutoring services from anywhere with an internet connection.
What Are The Benefits Of Online Tutoring?
Online tutoring comes with a range of benefits over traditional in person tutoring, not least the flexibility it can provide a student and tutor. Below we have listed some of the top benefits of online tutoring:
Convenience and flexibility: Online tutoring allows students to receive tutoring from anywhere in the world at any time, allowing for a more flexible schedule.
Personalised and individualised support: Online tutors can provide tailored and individualised support based on the student's specific needs and goals.
Improved communication and collaboration: Online tutoring allows for better communication and collaboration between the tutor and student, as well as the ability to share and access resources and materials easily.
Enhanced engagement and motivation: Online tutoring can provide a more engaging and interactive learning environment, which can help to increase motivation and engagement in learning.
Increased accessibility: Online tutoring can provide access to tutoring services to students who may not have access to traditional in-person tutoring, such as those in remote areas or with disabilities.
Cost-effectiveness: Online tutoring can often be more cost-effective than in-person tutoring, as it eliminates the need for transportation and other expenses.
Reduced anxiety: Online tutoring alleviates the anxiety some students feel when meeting new people or letting an online tutor into their home.
Is Online Tutoring Effective?
Yes, online tutoring can be effective. With the right tools and resources, online tutoring allows for personalised and flexible support that can help students improve their understanding and performance in a specific subject or skill. Online tutoring can also provide access to a wider range of tutors and subject experts, allowing students to find the right tutor for their needs.
Online tutoring can allow for interactive and engaging learning experiences through the use of virtual platforms and technology, which can help a student to learn more effectively and make the most out of their studies.
What Are The Best Online Tutoring Sites?
Online tutoring has become a popular and convenient way for students to receive personalised education and support over recent years. With the abundance of online tutoring sites available, it can be overwhelming to determine which ones are the best. From personalised lesson plans to expert tutors, these sites provide a range of services to support learners of all ages and abilities. So how can you figure out which of these sites are the best for your requirements? Below we have listed some of the best online tutoring websites for you to choose from:
Aggregate Tutoring Websites – There are numerous aggregate tutoring websites out there that provide a wide range of tutoring services to students of different age groups and academic levels. These websites typically offer a variety of subjects, including maths, science, English, and foreign languages, and often feature a large pool of tutors with diverse backgrounds and expertise. Some aggregate tutoring websites also provide specialised tutoring services, such as test preparation and homework help. These websites allows students to easily search for and connect with tutors who match their specific needs and preferences. Aggregate tutoring websites provide a convenient and efficient way for students to access high-quality tutoring services without having to leave the comfort of their own homes.
BBC Bitesize – The BBC Bitesize website is a fantastic free resource for students, providing educational materials for a wide range of subjects. The website is organised by subject, with sections for different age ranges, making it easy for students to find the resources they need. The materials are engaging and interactive, with videos, games, and quizzes to help students learn and retain information. The BBC Bitesize website is also constantly updated with new content, ensuring that students have access to the most current information. Overall, the BBC Bitesize website is a valuable tool for students looking to improve their knowledge and skills in a variety of subjects.
Tutorwiz – Tutorwiz is the online tutoring platform that helps students (KS1 – GCSE) to excel in their studies, no matter their age or ability. A hybrid model, thought to be the first of its kind in the United Kingdom, Tutorwiz combines online educational resources with real-life tutor support for whenever your child gets stuck. Tutorwiz provides your child with a personalised weekly lesson plan which is adjusted every Monday, in line with your child's progress. With Tutorwiz, you get all of the benefits of an engaging online tutoring platform (interactive games, activities, workbooks, quizzes and more) with the added bonus of real-life tutor support whenever it is needed. There are even incentives for completed study. Tutorwiz really is the ultimate tool when looking for online tutoring.
If you would like to find out some more information about Tutorwiz's online tutoring programme, or to enquire about how we can make a difference when it comes to your child's education, then please get in touch today. You can get in touch by calling us on: 0800 181 4221, by emailing us info@tutorwiz.uk or by using our contact form. Alternatively, why not request a FREE assessment today and identify your child's individual strengths and weaknesses. Tutorwiz have helped numerous children to excel in their education through online tutoring! But don't just take our word for it, take a look at what some of our previous happy customers have to say. Discover the benefits of online tutoring with Tutorwiz today!