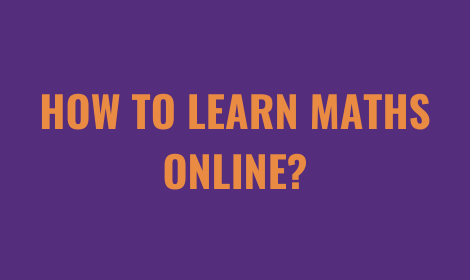 01 Mar

How To Learn Maths Online?
How To Learn Maths Online?
Learning maths can sometimes be a challenge for children! Whether they struggle from learning difficulties such as ADHD or dyscalculia or simply aren't getting the right support from their school, whatever the reasons may be, learning maths online can be an excellent way for children to improve on their mathematics skills outside of the classroom.
Online maths learning can help children develop their maths skills at a time and place that suits them, helping your child feel comfortable while studying! Learning maths online enables your child to validate their existing knowledge from home and build upon that knowledge. Whether they struggle with fractions, long multiplications or perhaps something more advanced like algebra; online maths learning can help your child improve their maths skills and knowledge, no matter their age or ability.
Throughout this article, we will look at how exactly you can learn maths online, how effective online maths tutoring is, and where you can go to learn maths online…
Can You Effectively Learn Maths Online?
Learning maths online can be an incredibly effective way of studying! Not only do you benefit from learning at a time and place which suits you, helping students to feel more comfortable in their studies, but you also often have access to a repertoire of engaging activities, games, quizzes and more, which can help to keep learners engaged for longer.
Traditional classroom learning is a little behind online studying in terms of keeping learners engaged. However, one of the significant downsides of many online maths platforms is that they do not have the support of a teacher or tutor when a student gets stuck. Online maths programmes also often rely on students knowing precisely what they need help with, mostly leaving students to their own devices in terms of what they should be focusing on. That's where a platform such as Tutorwiz comes in.
Tutorwiz is an online maths platform combining the best of both worlds, by integrating online maths activities for students of all ages and abilities with real-life tutor support whenever a student gets stuck. What's more, every Tutorwiz student receives a unique lesson plan designed based on each learner's individual strengths and weaknesses. This is then updated every week to reflect the student's new knowledge and focuses.
It starts with the essential step, and that is the student completing an assessment called Maths Doctor, in which the parents receive a detail report only a few hours after it has been completed. The parent will then receive a call from their allocated tutor to go over the results, and this is when the Maths lesson plans are created; to fill in any gaps, identify problems and carry them across their current school year. Mathswiz is perfect for the child who needs extra support in this vital subject.
Tutorwiz is an incredibly effective way of learning maths online and can even be more effective than classroom learning.
Can You Learn Maths Online For Free?
As with anything, you get precisely what you pay for when trying to learn maths online! While there are plenty of free programmes out there that can assist you on your journey to improve your maths skills, these may not be the most effective approach to learning maths online.
Some free programmes have a range of activities, workbooks, games, etc. However, it is very much up to the student to identify where they need improvement, remember appropriate actions and work for themself. While this works for some, many young learners struggle to identify strengths and weaknesses and often stick to the work they know they can do. But be aware, free is not free; generally, the parents have to purchase expensive supporting learning books and other educational aids.
While free online learning programmes can be fantastic for some, we find that children and young students typically require a bit more structure. And that's where Tutorwiz helps! Tutorwiz is dedicated to always providing the most appropriate and relevant support for a student's induvial strengths and weaknesses. When you first enrol with Tutorwiz, we complete a comprehensive assessment, identifying what you do and don't already know as well as any knowledge gaps holding a learner back. A lesson plan is created, which is then updated regularly so that every student is always receiving the most appropriate support possible.
Can You Learn GCSE Maths Online?
When it comes to maths GCSE preparation, many students will turn to additional online support beyond what they are already doing in the classroom or any revision their teacher has set. Learning maths online can benefit students in their GCSE preparation, as long as they get the right support!
While we would not recommend you solely rely on online learning to prepare for your GCSEs, it can certainly help. We recommend that you also have the support of a teacher or tutor to help you when you get stuck and most importantly to guide you on what to expect from your GCSE. Most online learning platforms do not have the outstanding support of a tutor or teacher to help you exactly where it is needed.
Tutorwiz is pleased to assist students in their GCSE preparations, helping them exactly where it is needed. We know what is required to pass a Maths GCSE and we also take the time to carefully understand a student's unique requirements to provide the most appropriate support possible, helping your child pass their maths GCSE.
Where To Learn Maths Online?
Are you looking to learn maths online but don't know where to get started? Overwhelmed by choices but not sure which is right for you? Well, first you need to think about what exactly you need. Are you looking for something that can assist your young child with numbers and counting? Or perhaps you are looking for GCSE support? If you are clear on what exactly it is that you need, then it will be much easier to find the appropriate support
If you're still unsure where to get started with learning maths online, then Tutorwiz could be the perfect option for you. Catering to all school ages and abilities, Tutorwiz combines interactive online games, activities, quizzes and more with real-life tutor support for whenever you get stuck. What's more, Tutorwiz provides unique lesson plans for each and every one of their students, so that you are always receiving the best support for you!
If you would like to find out some more about online maths tutoring with Tutorwiz, then why not request a FREE Assessment today! You can also get in touch by emailing us at info@tutorwiz.uk, by using our contact form, or by calling us on: 0800 181 4221, and a member of our helpful team will be happy to assist you! Discover the benefits of learning maths online with Tutorwiz today…
Discover more about how you can learn maths online with Tutorwiz's online tutoring program. Get a FREE Demo now…