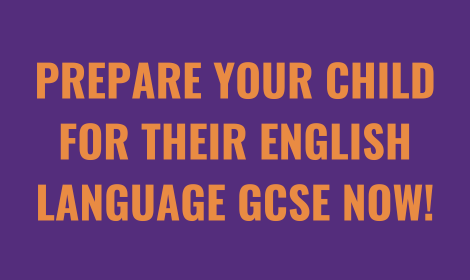 04 Apr

Start Preparing For Your English Language GCSE Now!
Start Preparing For Your English Language GCSE Now!
English language is one of the most vital subjects to learn and will help to carry you through your adult life. Writing, reading, spelling and knowing how to use proper grammar are skills which will benefit you at any age.
With English language being such a vital subject, passing your English language GCSE is a priority for many students. However, lots of pupils will struggle with the English language, and may need a little extra support to help them to pass.
Through this article we will take a look at what the English language GCSE consists of, how to pass your English language GCSE and why you should start your English language GCSE preparation as early as possible.
Firstly, Is The English Language GCSE Compulsory?
Technically speaking, no GCSEs are compulsory. Nobody can force you or your child to sit a GCSE and there are no "legal" repercussions for not sitting a GCSE. That being said, it is up to individual schools and education boards to decide whether to include English Language as part of the curriculum and almost, if not, every school in the United Kingdom includes English Language as a core GCSE subject.
Although there may be no formal or procedural repercussions for not sitting your English language GCSE, it is an exam which will help to carry your child through their adult life and is usually required for entry into higher education or certain careers. So, although the English language GCSE is not compulsory, it could be considered vital for every student.
Is The English Language GCSE Important?
Yes, the English language GCSE is incredibly important for several reasons. It is a required qualification for most universities and colleges, and is also often a requirement for many job applications. It is also an important skill for effective communication, both in personal and professional settings. Additionally, the English language GCSE covers important language and literacy skills that are essential for success in a variety of subjects and careers.
When Do English Language GCSEs Happen?
English language GCSEs usually take place in May and June of the academic year in which the student is taking the exam. The exact dates may vary depending on the specific exam board and the school or college where the student is studying. Students typically start preparing for the English language GCSE in Year 9 and continue to study the subject until their exam in Year 11.
Is The English Language GCSE Difficult?
The difficulty level of the English language GCSE can vary depending on an individual student's strengths and weaknesses. Some students may find the exam challenging due to the wide range of topics covered, including grammar, punctuation, vocabulary, reading comprehension, and creative writing skills. However, with dedicated study and practice, most students can successfully pass the English language GCSE.
Unlike GCSE maths, there is no higher or foundation paper. All students will sit the same exams and be graded based on their results.
Want to support your child in their upcoming GCSE exams? Request your Child's FREE GCSE Assessment today and help them to excel in their studies!
What Is Included In The English Language GCSE Paper?
The English language GCSE exam typically includes two papers. The first paper assesses students' reading skills, including their ability to understand and analyse a range of texts. The second paper assesses students' writing skills, including their ability to produce clear, well-structured, well-spelt and well-written responses to a range of prompts. Both papers also include questions on grammar, punctuation, and vocabulary. Some exam boards may also include a speaking and listening component in the English language GCSE.
How To Pass The English Language GCSE?
With the English language GCSE being such a key exam for students in the UK, the desire to pass is high for most pupils. Below we have provided some top tips and advice on how to pass the English language GCSE, including how to improve your reading and writing skills, how to revise effectively, and how to manage your time and stay focused on the task at hand:
Practice reading a variety of texts, including fiction, non-fiction, and poetry. This will help you develop your reading comprehension skills and improve your vocabulary.
Work on your writing skills by writing regularly and getting feedback from a teacher or tutor.
Focus on improving your grammar, punctuation, and spelling.
Practice your speaking and listening skills by participating in group discussions, giving presentations, and listening to lectures or podcasts.
Make sure you understand the exam format and the types of questions you will be asked. You can find this information on the exam board's website through their exam syllabuses or by talking to your teacher.
Start studying early and make a study plan to help you stay on track. Set aside regular study time and break up your studying into manageable chunks. Preparing as early as possible will give you the best chances of passing your English language GCSE.
Ask your teacher or tutor for help if you need it. They can provide you with guidance and support to help you succeed in the exam, and adjust your revision plan/schedule as and when needed.
Overall, the key to passing the English Language GCSE is to stay focused, work hard, and practice regularly. With the right preparation and effort, you can achieve your goals and pass the exam.
Can You Retake Your English Language GCSE?
Yes, it is possible to retake your English language GCSE exam. Students can retake the exam through their school or college, or by registering with a testing center such as the British Council or Pearson Edexcel. It is important to check with the relevant exam board to ensure that the exam is still valid and to obtain the necessary materials and guidance for preparation.
Re-sits happen throughout the year, so you don't have to wait until the following May/June to take your exam again. Re-marking could also be another option if you were very close to achieving your desired grade.
Tutorwiz are pleased to offer online tutoring for those preparing for their English language GCSE. Tutorwiz has helped numerous students to pass their English language GCSE and know what is required to prepare a student for their upcoming exams. Tutorwiz helps to prepare students for their English language GCSE through narrative and persuasive writing tasks, planning guides and materials and support for English writing tasks provided by school, as well as so much more. Tutorwiz has been designed in line with the UK's National Curriculum, so that you can be confident that the topics that you will work on with Tutorwiz are the same topics you will be working on at school.
If you would like to find out some more information about Tutorwiz, or to enquire about a FREE Demo to see the Tutorwiz programme in action, then please do not hesitate to get in touch. You can get in touch with the Tutorwiz team by using our contact form, by emailing us at: info@tutorwiz.uk or by calling us on: 0800 181 4221 and a member of our team will be happy to help.
Help your child to succeed in their upcoming English language GCSE with Tutorwiz today! Request your child's FREE Tutorwiz Assessment now!