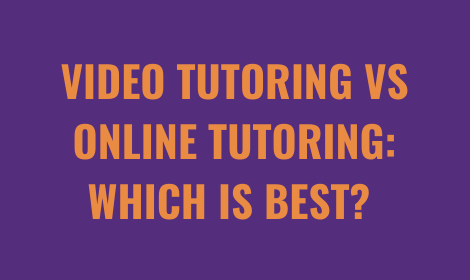 11 Dec

Video Tutoring vs Online Tutoring: Which Is Best?
Video Tutoring vs Online Tutoring: Which Is Best?
2020 has become the year of remote working, learning and collaborating. Because of the ongoing Coronavirus Pandemic (COVID-19), people everywhere have had to adjust to a new way of life! No matter your age or where you come from, everybody has had to rethink the way they work.
In the UK, schools and education facilities were shut for much of the spring/summer, and we are still some way off from returning to full normality! As such, there has been a considerable rise in the use of both video tutoring and online tutoring services so that students could still receive an education remotely. Many parents will now be well-adjusted to setting their child upon digital devices rather than sending them off to school, with remote learning becoming the "new normal".
But just how practical is remote learning? And what is the more effective means of remote tutoring? With many parents defacto choice of remote learning is by regular Zoom or Skype calls with tutors, and others preferring to take up online tutoring programmes which include "Next-Gen" tutoring; a hybrid of the best of online and 1-2-1 tutoring, how can you determine which is right for you and your child?
In the below article, we are going to look into what precisely both online tutoring and video tutoring involve, the pros and cons of both and how you can make the right choice for your little one.
How Video Tutoring Works
Video tutoring is the process of receiving tutoring sessions via video sharing and meeting platforms such as Skype, Microsoft Teams, Zoom, etc. Video tutoring is almost always conducted on a one-to-one basis; however, group sessions have become more and more popular over the past year (replacing typical classroom learning).
Through video tutoring, your child will be able to see their teacher and communicate with them as if they were in a classroom together. One-to-one video tutoring means that your child can get all of the attention and support they need, whereas with group video tutoring, much like being in the classroom, the Tutor's attention will be split between your child and their classmates, which dilutes the value of the cost versus quality of tutoring.
Video tutoring does come at a cost, and you will find that you are paying for the dedicated attention of a tutor. It will be down to you to understand their qualifications and merits to tutor. The price of group video tutoring is slightly lower. However, your child isn't going to be receiving exceptional support that has been tailored around their individual strengths and weaknesses and the Tutor will not be able to do any prep work before they see the student. On top of this, the parent will have to purchase materials to support these sessions, so the hour or so the price is effectively doubled.
Video tutoring can be an effective means of remote education; it does come at a cost. A cost which many parents just won't be able to afford, particularly in these times.
How Online Tutoring Works
Online tutoring or "next-gen" tutoring is the process of using an online tutoring platform or a platform delivered via the Internet, tools and software etc.; where your child learns through the use of online activities, educational games and quizzes. Online tutoring can often be more fun and engaging when compared with other types of learning and "next-gen" tutoring also allocates a professional and qualified 1-2-1 tutor to support the programme and student. However, one of the drawbacks of online is that some of these platforms usually lack real-life support. It is down to the parent to spend time to be with the student.
Online tutoring enables your child to study at a time and location that suits them. It also allows students to learn at their own pace and focus on the topics they need the most support. Your child is likely to have already used similar platforms at school and should be well-suited to navigating an online tutoring program.
Online learning is usually much more cost-effective when compared to video tutoring or one-to-one tuition. Even platforms which include real-life tutor support, such as "next-generation" tutoring platforms such as Tutorwiz's Mathswiz & English Wiz programme, tend to be much more affordable when compared with video tutoring.
Discover more of the benefits of online tutoring today with Tutorwiz's online tutoring program. Get a FREE demo today…
Is Online Tutoring or Video Tutoring More Effective?
Both online tutoring and video tutoring have their unique pros and cons, and both can be effective in their rights. Determining which is the more effective will depend on several factors.
Video tutoring can be beneficial on a one-to-one basis but can also be very expensive when the student does 2 hours per week at £30+ per hour. Video tutoring, as part of a group will be more affordable but means that your child isn't receiving the full attention and support of the teacher. On the other hand, online tutoring can keep your child engaged for longer, and with Next-Gen Tutoring, the student still gets 1-2-1 real-life support.
It can be a headache trying to work out which option will be the more effective form of learning, and that's where Tutorwiz comes in; the Next-Gen Tutoring System. Tutorwiz combines the best of both worlds, being an online learning platform that also has real-life tutors your child can depend on whenever they get stuck.
With Tutorwiz, you don't have to worry about whether online tutoring is more effective or if a real-life tutor is going to produce better results, as you get both options combined into one platform. As your child will dip in and out of calls with their Tutor depending on what they need support with and when you can get the combined value of online and one-to-one tuition at a much more affordable cost.
Where Can You Do Online Tutoring?
If you have decided on a Tutoring system that is delivered online is the right option for you and your child, then the next step is finding the right online tutoring platform for you. There are so many different tools out there, all catering to different ages, levels and abilities and all at various price points.
It is essential that you choose the platform that is right for you. For example, if your child requires specific help with maths and English, then you will want to find a dedicated platform to support maths and English students. If your child is looking for a more general platform that covers, then it may mean enrolling in more than one system. What we find with many parents is that they are usually looking for help for their child in 2 core subjects, maths & English.
If you are looking for a programme that combines online learning with real-life tutor support for both maths & English, then Tutorwiz is undoubtedly worth exploring. Tutorwiz is the online learning platform that puts your child at the heart of everything we do. Right from their initial assessment, the Tutorwiz programme is focused on identifying your child's strengths and weaknesses and developing a learning strategy to help fill any knowledge gaps. Tutorwiz helps your child to increase their confidence and understanding and allows them to get better results in the classroom. Through online learning, combined with real-life tutor support, Tutorwiz can help children of all ages and abilities.
Find out more about the "next generation" Tutorwiz online learning platform today and help your children to achieve their best results. Get a FREE Assessment today…