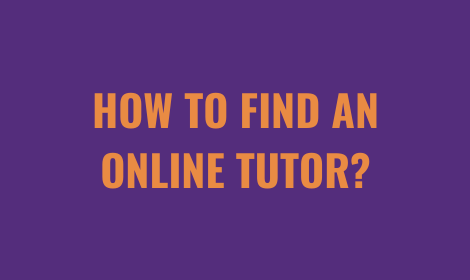 13 Jan

How To Find An Online Tutor?
How To Find An Online Tutor?
Finding an online tutor isn't always an easy task. With so many tutors out there, seemingly all offering the same thing, but at different price points, it can be a struggle to know the right decision for you and your children. If you know that you want online tutoring but don't know where to start, then this article will help you to find an online tutor and make the best decision for your family.
Please read our blog post Video Tutoring vs Online Tutoring: Which Is Best?
Many parents will be looking for online tutors to replace their child's usual face to face tuition, thanks to the ongoing Coronavirus pandemic in the UK. Many of these parents are looking for 1-2-1 remote online tutoring sessions so that their child can keep up with their studies from home. However, there are other options. Online tutoring programmes, websites, apps and virtual lessons can often be just as effective as a home tutor, but at a fraction of the cost. So, these options are all worth exploring when looking for online tutoring too.
Read on to find out more about how to find an online tutor that is right for you and how you and your family can make the most out of online tuition…
Does Online Tutoring Really Work? Is Online Tutoring Effective?
Online tutoring can be incredibly useful for kids and adults alike whether you need a helping hand in one key subject or require more comprehensive support across all topics in preparation for exams such as GCSEs, SATs and the Eleven-plus. Whatever yours and your children's requirements, there are online tutoring services that can accommodate just about anyone.
Online tutoring is often compared with more traditional tutoring methods, such as visiting a private tutor or tutoring sessions in schools and colleges. Many parents believe that you get a better service from private or face to face tutoring options. But this is not always the case. Online tutoring can be just as effective as more conventional tutoring, if not more so, because to issues such as stress and the anxiety it can cause when finishing a days school work only to do another couple of hours on top.
Online tutoring services enable students to study at a time and location that suits them, which can benefit some in their studies, particularly young learners and teens. Studying at a time and in a place that suits you means that there aren't the nerves of having to meet somebody new for the first time or inviting a tutor into your home. By going into your tutoring sessions more comfortable and relaxed, you can concentrate on your studies better.
As with face-to-face private tuition and just about anything else, you get precisely what you pay for when it comes to online tutoring, and free tutoring platforms offered by various media channels can be an excellent place to start, they do not provide personalized support and help exactly where it is needed.
Want to discover more of the benefits of online tutoring platforms? Discover more today with Tutorwiz and get a FREE Assessment now…
What To Look For In An Online Tutor?
When looking for an online tutor, you need to consider exactly what you are looking for. Are you looking for an online maths tutor to support your primary-aged child with their maths homework? Or perhaps you are looking for tutoring companies who can provide comprehensive tutoring services to get your child through their SATS, 11+ or GCSE exams. Whatever your requirements may be, you need to know precisely what you are looking for so that you can find the most appropriate online tutoring possible.
Once you are clear on what you need, you can start your search for an online tutor or tutoring programme. There are many considerations to make when looking for online tutoring, from costs to testimonials from previous happy students who have achieved results and parents. It is essential to do your research. We recommend that you look into an online tutor's experience and whether they have reviews from previous happy customers on trusted review sites such as Google and Trustpilot. Do they have the demonstratable expertise, and can they give you examples of some of the results they have achieved? It may even be worth reviewing their social media pages to ensure no concerns or negative feedback.
Choosing an online tutor for you and your family isn't necessarily all about the results that can be achieved. It is also essential to find someone personable whom your family can get on with. A pleasant and positive learning experience will be a much more effective learning experience, after all. How responsive are they, do they work to your child's timetable, or do you work to theirs? Do they work weekends when the students have more time, give instant feedback, produce detailed weekly reports on your child's progress, and do they offer motivation, incentives but crucially, do they work to your child's attention span. On that point, children's attention spans are getting shorter; mainly due to their lifestyle they are living, the throw-away society, social media, etc. It is something we have to live with, so this will be left in the type of tutoring you want for your children. If you book an hour's tuition, typically, only the first 20-25 minutes will be used to absorb the lesson/work, the remainder, won't be as productive and the further into the hour the less it becomes. Generally, reputable Tutoring companies, such as Tutorwiz, have overcome this with short, bite-sized sessions daily. The student absorbs the work, retains it but crucially, it goes into the long term memory.
One final aspect of an online Tutor that you, as the parent, must consider is the technology that underpins the best online tutoring offerings. Individual tutors do not have this luxury; however, some organizations do. The programmes fall into the category of "Next Generation Ed-Tech", and that is the platforms that deliver the subject in conjunction with live Tutor support. It calibrates and learns as the student learns. It will understand where the gaps are from Year 1 onwards, preempt any hurdles/pitfalls from developing, adapts itself to the way the student works. These tutoring companies are few and far between; Tutorwiz is one. The system works for hand in glove with the student and parents and understands the student's strengths and weaknesses and capabilities from the outset.
If you are looking for an online tutoring service that you can trust, it is worth looking into Tutorwiz. A programme like Tutorwiz is a great place to start with online tutoring! The Tutorwiz programme combines online maths and English tuition for students of all ages and abilities (and their experience and reviews speak for themselves)!
How Much Is An Online Tutor?
Online tutoring can vary massively in price. As mentioned above, there are free online tutoring websites from TV companies; however, as with everything, you get precisely what you pay for.
Online tutoring will vary in price, with private 1-2-1 online tutors ranging from £20 to £60 per hour. However, with online tutoring, you do have more options. Virtual classrooms and group sessions, for example, can be a more affordable alternative compared with 1-2-1 online tutoring. However, these sessions aren't as tailored to your child's unique needs, with less individual attention from the tutor.
Online tutoring programmes, such as Tutorwiz's Mathswiz and Englishwiz, are a fantastic option when looking to get the most value for your money, this is in the context of cost means consideration of the whole length of time you use Tutorwiz, a quality of service which is fit for purpose and sufficient to meet your's and your child's requirements but importantly, sustainability with regards the environmental benefits as there isn't travelling to a tutoring centre.
Tutorwiz combines an online learning platform with real-life tutor one on one support whenever your child gets stuck. A tutor is only ever a phone call away and will help your child with exactly what they need. Tutorwiz uses student assessments to design a lesson plan which is unique to your child's strengths and weaknesses so that they are always receiving exceptional support exactly where they need it, no matter their age or ability.
Is Online Tutoring Cheaper Than Other Types Of Tuition?
Online tutoring does become slightly more affordable when compared to face-to-face tutoring. Online tutors have fewer overheads to consider than in-person jobs, so the cost does come down slightly. However, for 1-2-1 dedicated support for your child, you will still be paying a premium.
Online tutoring programmes are, by far, one of the cheapest options when it comes to any tutoring. Especially a programme that combines online learning with dedicated tutor support any time you need it.
Want to see the Tutorwiz programme in action? And understand exactly how it can help your child to improve on their studies? Get a FREE demo today…
So, How Can You Find An Online Tutor?
When looking for an online tutor, you need to think about what exactly you are looking for. With so many online tutoring types out there, you must first be clear on what you are after. Whether you are looking for an online English tutor, somebody who can provide support as and when required, or someone who can cover various subjects, you first need to be clear on what you need.
Next, you need to consider your budget. Depending on your budget, you may be looking at 1-2-1 online tuition, group sessions or online tutoring programmes and platforms. If you are on a tight budget, then a smart choice could be an online tutoring programme such as Tutorwiz.
You also want to make sure that whatever online tutoring option you choose is trusted by parents, can demonstrate results and has plenty of positive reviews.
Finally, and most importantly, you want to choose online tutoring that your child will enjoy and engage with. If your child is bored or not engaged, then they will struggle to learn. At Tutorwiz, we pride ourselves on our fun and engaging platform, which uses an incentives programme to help young students to see value in their studies.
What Is The Best Platform For Online Tutoring?
Finding the best online tutoring platform will very much depend on your family's individual needs, budget and focus! But if you are looking for an all-round online tutoring platform that combines activities, work, quizzes, games and more with dedicated tutor support at the end of the phone whenever you need it, then Tutorwiz is the best option for you!
Tutorwiz start by identifying any knowledge gaps holding your child back from reaching their full potential. Whether maths, English or both, Tutorwiz will then create a lesson plan, especially for your child, targeting those gaps. Every question comes with instant feedback and support, helping your child to learn the right way straight away.
If you would like to find out some more about how you can find the right online tutor for you and your family or find out some more about our Tutorwiz online learning programme, then please get in touch today. Tutorwiz has been helping students and parents for many years, and we know precisely how to achieve results through personalised lesson plans and a tailored approach to your child's education!
To get in touch, please contact us on 0800 181 4221, by using our contact form or by emailing us at info@tutorwiz.uk and a member of our helpful team will be happy to assist you. Find the right online tutor for you and your family with Tutorwiz today…
Discover more of the benefits of online tutoring today with Tutorwiz's online tutoring program. Get a FREE Assessment now…